Neil Gaiman and Amanda Palmer are the Sonny and Cher of our generation. But one's a writer. Okay, maybe not Sonny and Cher. Bonnie and Clyde perhaps? Traveling the country robbing people's hearts? No, given their sometimes morbid artistic sensibilities, dying in a hail of bullets might be an appropriate end to their careers but that would be a terrible waste. Sid and Nancy? Closer, but no. Mulder and Scully? No…William and Kate? No, definitely not. Brad and Ang…okay, this isn't working.
I'll start again…
I first discovered Neil Gaiman in the pages of the Sandman comics (thanks to my comic shop owning friend). From then on I was hooked and American Gods is still one of my favourite novels. Neil's one of my literary heroes and I eagerly devour every book and every blog he writes. I was fortunate enough to see him when he visited Vancouver on his Anansi Boys tour. He was funny and entertaining and after I'd waited for two hours to get my books signed I couldn't think of anything to say to him.
I first discovered Amanda Palmer as one half of The Dresden Dolls (thanks to Caitlin R Kiernan's blog). From then on I was hooked and Amanda has written, sung and played some of my favourite songs. She's one of my musical heroes – I have no less than five CDs in my car containing various combinations of her songs and they're on almost constant rotation. I've been lucky enough to see her play live in Vancouver three times and her Who Killed Amanda Palmer? gig at Robson on Robson was my all time favourite gig. Until Sunday night.
I've seen competitions offering 'meet and greets' with bands but the idea never really appealed to me (there's a reason this blog isn't called Gregarious Mindset) but when Neil Gaiman and Amanda Palmer announced their An Evening With Neil Gaiman and Amanda Palmer tour and its associated Kickstarter project and the aforementioned Kickstarter project included VIP tickets and the opportunity to meet two of my favourite creative geniuses, I couldn't resist.
So, it was with some trepidation that I got up Sunday morning – after all, what if they turned out to be dicks?
The day got off to a great start with news of a ninja gig featuring both Neil and Amanda in, of all places, a shoe store. I had visions of bewildered teenagers fighting to protect their precious stacks of Hush Puppies from hordes of Neil and Amanda's adoring fans but we went anyway. It turns out the store – Fluevog – is not at all what I was expecting. It's a very cool site built between two buildings – very bright, excellent acoustics and a staircase that might have been built to serve as a stage. They also make some very nice boots and I'm already planning a return trip.
Neil and Amanda spent about an hour at the store. Amanda sang some songs including one of my favourites – In My Mind. Neil sang as well, the first public performance of a cover of Psycho – a deliciously wicked song by a blind American songwriter called Leon Payne. He also read a couple of pieces including Baby Cakes – a deliciously wicked short story.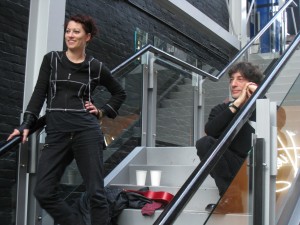 Neil and Amanda answer questions at Fluevog
Post-ninja gig Amanda, Neil and fans formed a bizarre alternative-dr-who-celebrity-autograph-hunting-paparazzi procession that left a trail of bemused tourists in its wake as it traveled through Gastown on the way to the Art Gallery to visit Occupy Vancouver. Amanda has been visiting the Occupy sites at every city she visits, playing mini-gigs on her ukulele in support of the movement.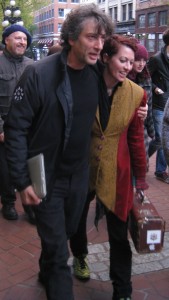 On the way to Occupy Vancouver
The Evening With… gig itself was held in The Vogue on Granville, an Art Deco theatre that opened in 1941. We were grateful for our VIP tickets – there was already a sizeable queue outside when we arrived just before five, and the doors didn't open until seven.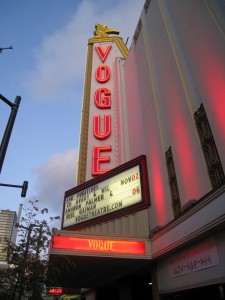 The Vogue Theatre
There were about twenty of us in the VIP group, including several people who were attending all five gigs. After getting our VIP passes and admiring the lobby for a while we went in to watch some of the soundcheck for the evening's show.
In true Amanda Palmer style, the intricate set had been crowdsourced and Bard on the Beach had stepped in to provide a suitably ecclectic collection of props to create the evening's "living room".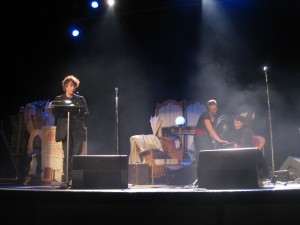 Neil, Amanda and VIP sound check at The Vogue
After the sound check, which saw Neil practicing Psycho and both of them reading a poem Amanda had written, we retired to a back room for wine and the meet and greet.
Here was the moment of truth…would they be dicks?
Nope.
As you might expect, both Neil and Amanda are very nice, very professional and above all very normal people (apart from the whole rockstar/author thing). They took something that could have been extremely awkward and somehow made it seem natural. Wandering the room and making sure everyone got to meet them, they signed books and records and books and tickets and more books, accepting gifts, chatting and posing for photos as they went. One of the highlights for me was listening to Neil talk about how much he admires Amanda's writing.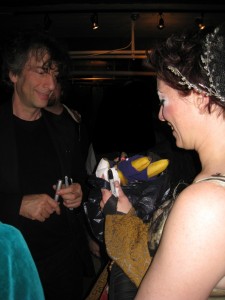 A banana themed gift from fans
Eventually, books signed and photos taken, we headed upstairs to our seats for the show. And what a show it was.
It started with a surprise appearance from Melbourne-based "indie cabaret duo" The Jane Austen Argument. Their song, "Bad Wine and Lemon Cake" is one of my favourite tracks from Amanda Palmer Goes Down Under and the songs they played didn't disappoint.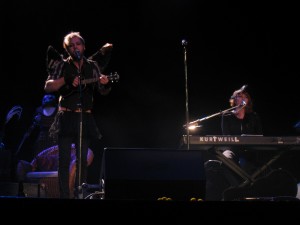 The Jane Austen Argument
Then it was on to the main event – over three hours of Neil Gaiman and Amanda Palmer at their most entertaining. By turns it was happy, scary, loud, funny, inventive, quiet, sad, chaotic, tearful, intimate, sexy, incredible, improvised, amazing, moving, rude, creepy, unexpected, stunning, indescribable, Formbian, raucous, creative, wonderful, bizarre, raunchy, loving and, eventually, over.
Above all, it was unforgettable.
So no, they aren't Sonny and Cher or Bonnie and Clyde or Sid and Nancy or Mulder and Scully or William and Kate or Brad and Angelina…they're simply Neil Gaiman and Amanda Palmer.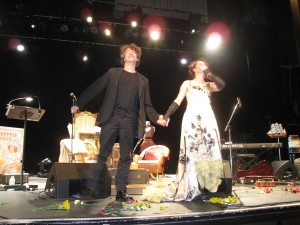 All photographs Copyright Philip Harris 2011 – All Rights Reserved