Sunday marked the 652nd day of my unbroken writing streak. Meaning, I'd written some sort of fiction every day for 652 days in a row (and counting).
During that time, I've written a total of 485,205 words. 150,728 words of that was either revisions (94,334), Rewrites (35,293) or outlines (21,101). The remaining 333,513 words were first draft writing. A fair amount of that will have been deleted but I've still got a significant chunk of completed material.
The daily and weekly charts are getting a bit too big to be useful now, but here's the monthly breakdown (bearing in mind the first and last months are not full months).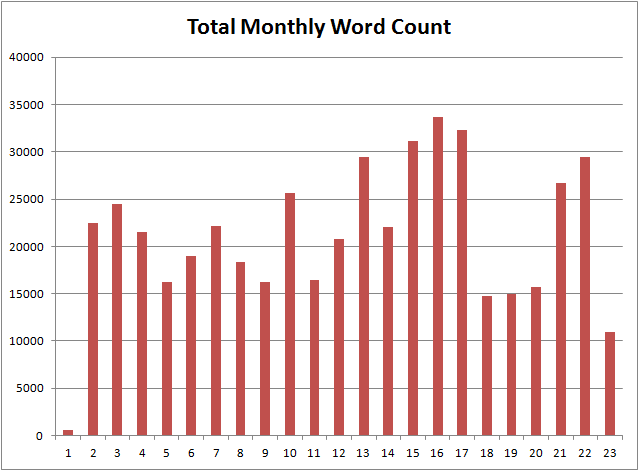 My best full month was 33,637 words while the worst was 14,784.
My best week was earlier this year when I hit 12,997 words. My worst weekly total was a feeble 1,608 words although low weeks tend to happen when I'm revising so that's a bit misleading.
These are the projects I've worked on during that time (in chronological order).
The Ghost Smuggler (Novel Rewrite)
12 Things you Need to Know About Merfolk (Short Story) Finished
Glitch Mitchell and the Unseen Planet (Novel)
The Princess (Short Story) Finished*
The Mirror (Short Story) Finished*
Lifeboat (Short Story) Finished*
The Bone Boy (Short Story) Finished
The White Demon (Short Story) Finished*
Saviour (Short Story) Finished
In the Shadow of Memories (Short Story) Finished
The Ride (Short Story)
Clockwork Girl (Short Story) Finished
Untitled Short Story
The Zombie Book (Novel)
Mini-aliens (working title) (Short Story)
Diary (working title) (Novel)
The First Zombie Hunter (Short Story)
Immersion Therapy (Short Story)
Day 263 (Short Story)
Untitled Novel
The Face on Benefit Street (Short Story) Finished
The Girl in the City (Novella) Finished
Bottled Lightning (Short Story) Finished
Reg vs The Martians (Short Story)
Only Friends (Short Story) Finished
Curfew (Short Story) Finished
In the Shadow of Burning Books (Short Story) Finished
The Haunting of Danny Braithwaite (Short Story)
Leah Sequel (Novella)
In the Hall of Rusted Widows (Short Story) Abandoned
The Zombie Book 2 (Novel)
Menagerie (Short Story) Finished
Boss Battle (Short Story)
Phantom Pain (Short Story)
IA5SUB (Short Story)
Untitled AI Story (Short Story)
Body Parts (Short Story)
The Truth About David Gatewood (Fictional Creative Non-Fiction)
Siren's Call (Novel)
That makes 7 novels (3 of which are just outlines/fragments at this point), 30 Short stories (15 finished) and 2 Novellas (1 finished).
The stories marked with a * were done as part of a workshop and with the exception of The Mirror (which is going out to my newsletter subscribers shortly) are destined to stay locked away on my hard drive.
Last week was, of course, all about Siren's Call.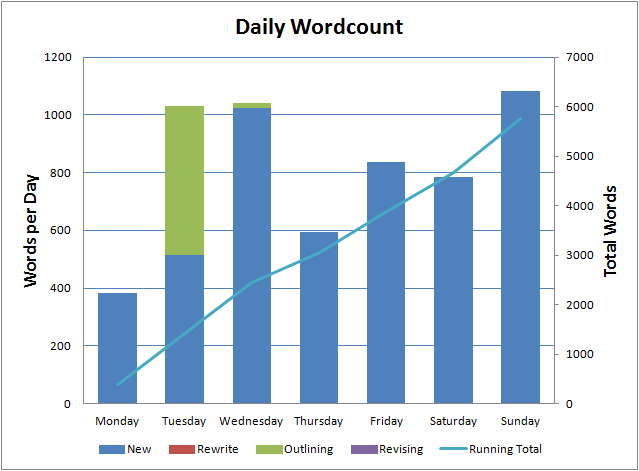 I wrote 5,753 words in total which is a bit less than the week before but I'm hitting the book's finale now and I wanted to make sure I was 100% clear where I was heading. So, I also took a step back from the novel and tweaked the outline to the tune of 536 words.
I'm glad I did. I adjusted a few things based on what I've written so far but more importantly, Ethel the Muse pointed out a way I could really beef up the ending. Without giving too much away, I had two very similar obstacles in the way of my main character. I changed one of them quite dramatically and the end result is a much stronger and more interesting finale.
Even with the diversion into outline territory, I'm still writing over 5,000 words a week which is my goal so I'm still on track.
One final piece of Apocalypse Weird news – the team at Wonderment Media have just launched an IndieGoGo campaign. There's lots of cool stuff there, including signed books, limited edition hard covers and a lifetime subscription to Apocalypse Weird. Check it out.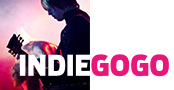 Get a FREE copy of my short story, Only Friends by subscribing to my newsletter.
[
Building the Apocalypse – 13 April 2015 
by Philip Harris first appeared on
Solitary Mindset
on 14th April 2015]