I'm a bit of a KickStarter addict. I've backed everything from children's books to HP Lovecraft Blu-rays to card games about exploding kittens to photographs of librarians. I try to stay away from the site these days because it's just too tempting and there's only so much room in our apartment.
That said, I've just backed my 97th project – StoryStylus from One More Story Games.
My wife and I have known Blair and Jean, the founders of One More Story Games, for a long time and they're two of our best friends. I worked with Blair when I first arrived in Canada, and we ended up hanging out with them, playing boardgames, going out for meals, watching illicit filming going on in the apartment across the street and just generally having a good time. I introduced Jean to Amanda Palmer at a New Year's Eve gig in San Francisco, they introduced us to someone who bakes bacon-orange cookies. Seems like a pretty fair exchange.
About 15 months or so ago, after spending some time working in the US, Blair and Jean returned to Canada and formed One More Story Games to create an online gaming platform for interactive fiction.
The first "world" – Mystery World – lets players investigate crimes as a modern day sleuth, interviewing witnesses and suspects, finding clues and just generally going all David Caruso on the bad guys. It's a fun and extremely popular gaming genre and One More Story Games (or OMSG as people in the know call them)  have built a very cool platform and started populating it with some games.
But what makes the One More Story Games platform even more interesting is StoryStylus – the tool that lets writers of all levels of experience create their own interactive fiction. And get paid when people play their games. They also have a great logo.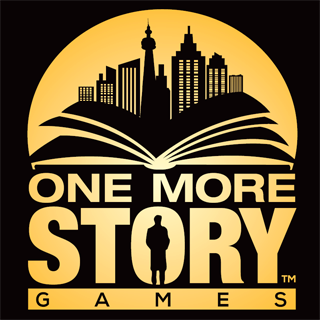 It's a cool, innovative and ambitious idea that I think has huge potential. Blair and Jean and the rest of the team have been working ridiculously hard to bring this project to life. I've been fortunate to get a glimpse behind the scenes and there's some really cool stuff coming down the pipeline.
Which is why they've put together a KickStarter project (and why I backed it). They've built a solid, fun, playable prototype, they now want to put the finishing touches on the platform and get it out there and change the gaming world.
You can already play the first Mystery World games and get a feel for the system, there's links and tutorial information on the Kickstarter project page.
So, if you're a writer who's interested in trying out interactive fiction, or someone who would like to beat Sherlock Holmes at his own game, check it out.
My science fiction novella, The Girl in the City is available now from Amazon for 99c/99p – US UK Canada.
Get a FREE copy of my short story, Only Friends by subscribing to my newsletter.
[
StoryStylus KickStarter 
by Philip Harris first appeared on
Solitary Mindset
on 28th March 2015]