Deep into revisions this week which means a lower word count – 4,051 words. That sounds pretty good but I spent over 14 hours writing to get that.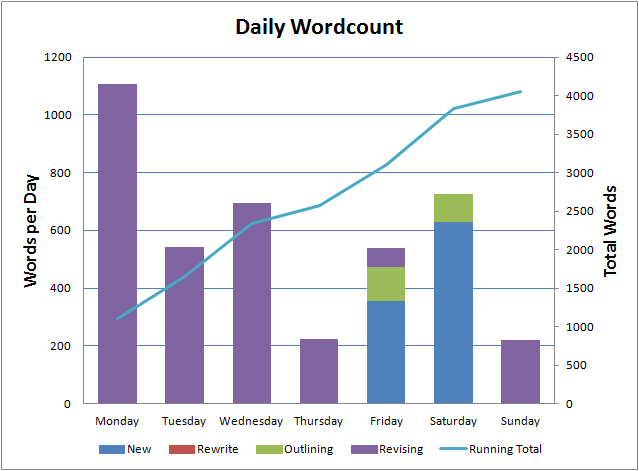 The beginning of the week was spent getting Leah ready for a second trip to an editor. The first round of editing was a high level, development, edit focusing on big picture issues. This week was spent addressing those and making a few last minute tweaks. The second edit is a copy edit and is focused on grammar, spulling, etc. Once I've gone through that feedback and made the appropriate changes there'll be a couple of rounds of proofreading and then the story will be ready for release. More on that next week – including the reveal of the final title of the story.
With Leah out of the way I made a last ditch attempt at avoiding working on the Glitch Mitchell and the Unseen Planet edits by starting a sequel to Leah (Friday) and doing some more work on Reg vs the Martians (Saturday), a story I started at Mary Robinette Kowal's short story workshop.
Saturday's writing didn't go that well (mostly because I was hungry and couldn't get to the kitchen to graze) so on Sunday, I finally gave in and pulled out the Glitch edits and started working through them. Progress was slow and I only made it through the first couple of chapters and then gave up. I just wasn't in the right head space.
Today, the editorial comments seemed a lot less daunting and the revisions went much better. I made it past the halfway mark and may even be able to finish this draft tomorrow. The manuscript will still need more work and another editorial pass but it's coming together nicely.
[
Metrics Monday – 10th November 2014
 by Philip Harris first appeared on 
Solitary Mindset
 on 10th November 2014]