Two updates this week as I missed last week due to my trip to The Stanley Hotel.
First up, October 20th-26th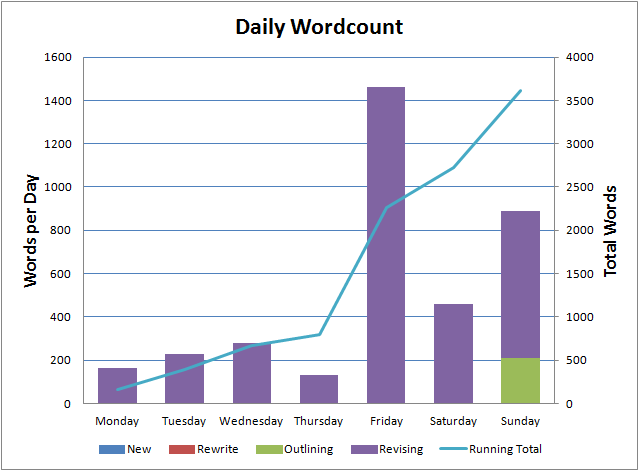 A slow start to the week and then the retreat really kicks in on Friday.
Apart from the outlining on the Sunday, all of this work was revising. When I'm working on a story I leave myself little notes on things that need to be fixed later – usually because I don't want to break up my flow but sometimes because I have no idea what to write at that point. I wrapped up most of the first draft of The Zombie Book on the 19th, leaving just those notes to deal with. I originally thought I could do that pretty quickly and then spend the retreat working on something else.
It didn't work out that way.
As I went through the draft, I found a lot more of the notes than I'd expected. Including some things like [Something should happen here]. Fixing them took a lot longer than I'd expected but after a big push on Friday, I wrapped up the first draft of The Zombie Book at 7:36pm on 25th October 2014. Final word count was a very respectable 77,296 although I'm expecting that to go down by 3-4,000 words in the next draft.
As of 19:36, I have officially finished #amwriting the first draft of my new zombie novel – 77,296 words #happy

— Philip Harris (@SolitaryMindset) October 26, 2014
Saturday was spent revising – this time tidying up a new short story, now called In The Shadow of Burning Books. I realised today that it's the second "In the Shadow" story I've written. I wish I could say I had the foresight to create an interlinked pair of stories but they aren't even the same genre.
With that story (pretty much) wrapped up I was supposed to move on to revising Leah based on some editor feedback I got a while back but I was determined to do some new writing and being in a haunted hotel, it had to be a ghost story. So, The Haunting of Danny Braithwaite was born and I outlined that story on Sunday, ready to start writing the next day. Total words for the week – 3,617 which is pretty good as I was focused on revision.
Which brings me neatly to  the second week – October 27th – November 2nd.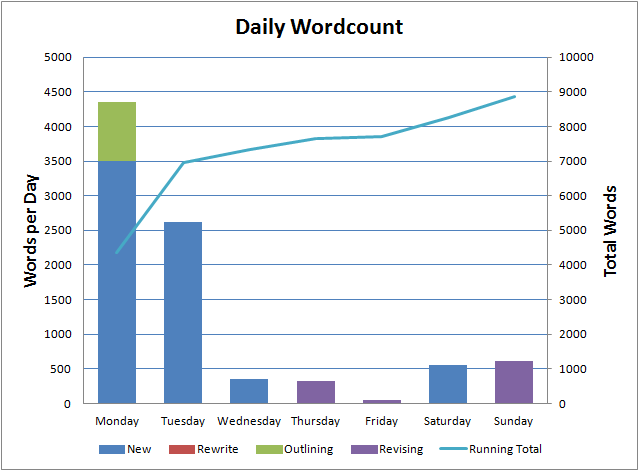 Definitely a week of highs and lows. Monday was almost completely devoted to writing. After some more outlining of The Haunting of Danny Braithwaite, I dived straight into the story. I was hoping to get the whole thing finished while I was at The Stanley but it turned out to be one of my longer stories (6,475 words) and despite a couple of very productive hours in Denver International Airport on Tuesday, I didn't wrap up that first draft until the Wednesday.
Then I moved on to some final revisions of In The Shadow of Burning Books before I submitted it on the Friday. The ridiculously low word count on Friday (55 words) was actually spread over about 100 minutes so although it's my lowest single day word count it's actually a decent investment of time. I'm pretty happy with the story (although let's face it, they never come out how I see them in my head) but we'll see what the editor thinks.
Saturday was an odd day, I spent a couple of hours clothes shopping (which I hate) and was burned out from all the editing and needed something fresh to work on. So, I wrote the first 550 words of a new story, a sequel to Leah. Which is a really bad idea – I already have too many projects in progress. But, it was refreshing, I'm happy with the result and it gives me somewhere to start from if/when I decide to write that sequel.
Sunday I was back onto the editing – this time working on Leah. There's a reasonable amount of work to be done on it to integrate the feedback from beta readers and the editor but today I booked it in with a copy editor so I now have a real deadline. Friday.
Today was a very special day. Ten years after I applied for a job in Canada, my wife and I became Canadian citizens. I celebrated by spending the rest of the day revising Leah. 

[
Metrics Monday – 3rd November 2014
 by Philip Harris first appeared on 
Solitary Mindset
 on 3rd November 2014]