Can you spot when I took Mary Robinette Kowal's short story writing workshop?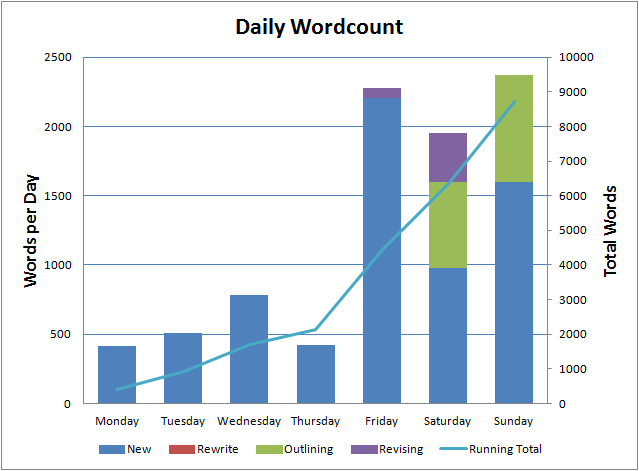 The workshop was an incredibly valuable experience and I came away with a whole new understanding of various aspects of the craft of writing, new tools for my writer's toolbox and the inevitable boost in motivation. I also ended up with several new short story ideas (and one that could easily be a novel) that I'm itching to get to once I get my current workload under control. If you're a writer and you get a chance to be taught by Mary at any point – jump at it.
Not all of the weekend writing was for the workshop. I managed to squeeze in half an hour or so of work on The Zombie Book each day – primarily so that I didn't feel like I was "cheating" by keeping up my streak (now sitting at 428 days) with workshop exercises. Yes, that makes no sense but there you go.
So, 8,726 words, 2,989 of which were on The Zombie Book. Very happy with that. And…spoilers…I had a very productive writing day today as well – a boost from the workshop without a doubt.
[
Metrics Monday – 1st September 2014
 by Philip Harris first appeared on 
Solitary Mindset
 on 1st September 2014]