The two productive weeks I had planned didn't really pan out how I expected them. Rather than two weeks of creative productivity I had two weeks of day job shenanigans, a return to marathon training and a time consuming reorganisation of the apartment.
Still, 4,016 words isn't disastrous given that a most of that work was revising and it's almost 300 words more than last week.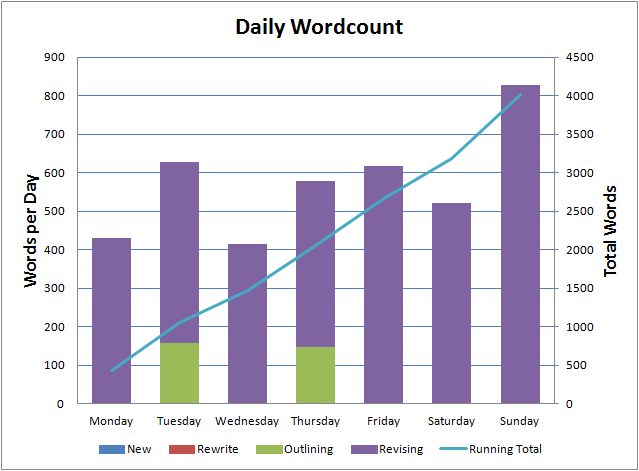 The Ghost Smuggler is moving forward although I'm still only around 40% of the way through this draft – I've been adding a fair amount of words. That's well short of my goal of 100% but better than nothing and the book is getting longer and more layered which I think is a good thing.
I did make another breakthrough regarding the plot on Sunday. I've been searching for a way to reveal a key plot point regarding the main character and I finally settled on an approach while soaking in the bath after my Sunday run. I started writing that scene and it seems to be working. I think that's the last major sticking point but I've revised a lot of the story during this draft so there may be new issues to fix.
I also did a bit more outlining of the Diary project on Tuesday. The second block of outlining in the graph above was for yet another project – a planned novella based on a short Zombie story I wrote while we were in Mexico. I was never quite convinced the story worked so I never revised it but I think it could make a nice novella. More on that another day.
I've now lost count of how many planned/in progress projects I have. I think I need to take a step back and take stock.
[Metrics Monday – 3rd March 2014 by Philip Harris first appeared on Solitary Mindset on 3rd March 2014]