Work got in the way of writing in a dramatic fashion this week – we have a new title coming out on the 25th of February and there was some final troubleshooting to do. In fact, I wasn't sure I'd even make it past 2,000 words until I made a concerted effort yesterday afternoon and added 1,875 words in one sitting.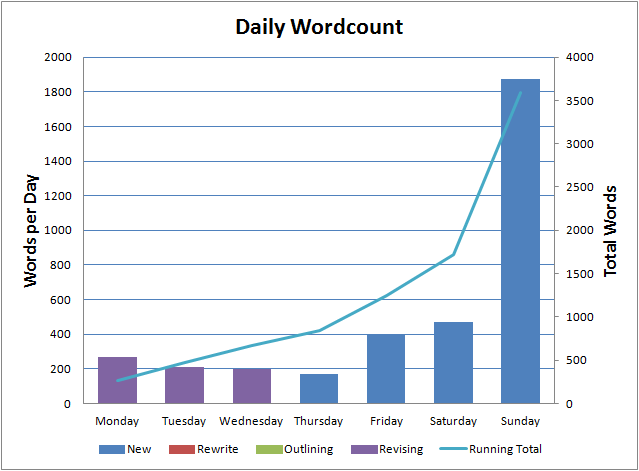 The first three days were spent on revisions of The Ghost Smuggler, tiny sessions crammed into what little time I could find. By Thursday I was struggling to find any time to work in Scrivener at all so I switched tracks and started a new project, codename Diary.
It's a project I thought of a few months ago but decided not to write. On Friday, I decided to use it as filler to keep my writing streak going until I could get time work on The Ghost Smuggler – more like practice than an actual story intended for publication. But then something interesting happened. Ethel the Muse began working her magic and my practice story became something I'm considering writing as my next project. It's even changed tone a little bit. It started off as fairly humorous (and will probably stay that way) but the plot is now moving into more serious territory.
I'm going back to The Ghost Smuggler now, there's a couple more drafts to go at least, and then I'll be revising Glitch but I think Diary might be a worthwhile project. We'll have to see.
Oh, and on Thursday I wrote 171 words on a different story that will probably get thrown away.
[
Metrics Monday – 10th February 2014
by Philip Harris first appeared on
Solitary Mindset
on 10th February 2014]