A pretty good word count for the first full week of the year – 4,345.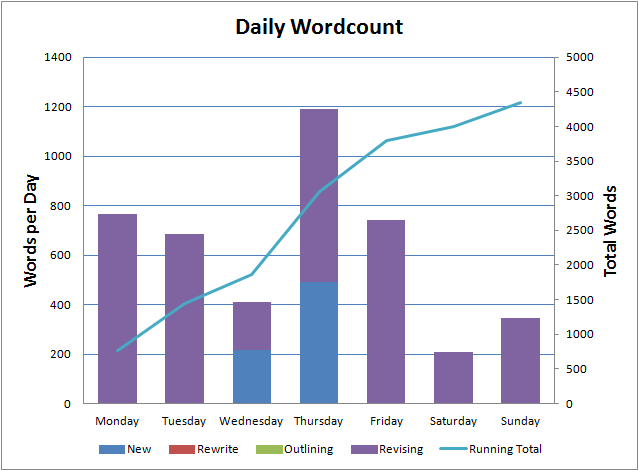 Most of the writing was the revisions to The Ghost Smuggler which are going well. I'm currently about 18% through the second draft. This one is focused on fixing structural problems. I'm reading the whole thing as I write and fixing and improving as I go but there will be a third draft purely focused on wordsmithery. Once that's done, I'll be giving it to my wife to get her feedback.
As well as The Ghost Smuggler, I did the final, final edits to a story called Twelve Things You Need to Know About Merfolk and also tinkered with the opening chapter of a new novel. I'm not ready to start writing it but the idea has been gnawing at me for a while and I needed something to work on to keep up my streak (currently sitting at 197 days). I didn't have a chance to work at home on my PC so I needed something that didn't need Scrivener.
We're going to be away on vacation from Wednesday. We're travelling to the Bahamas for a marathon. Unfortunately, I'm injured so I will be relegated to Chief Cheeringoner but the break will be good (yes, yes, I know I've just had a break) and I do intend to get some writing done while we're there.
[Metrics Monday – 13th January 2014 by Philip Harris first appeared on
Solitary Mindset
in 13th January 2014]