Last week was pretty productive – 5,424 words on Glitch Mitchell and the Unseen Planet.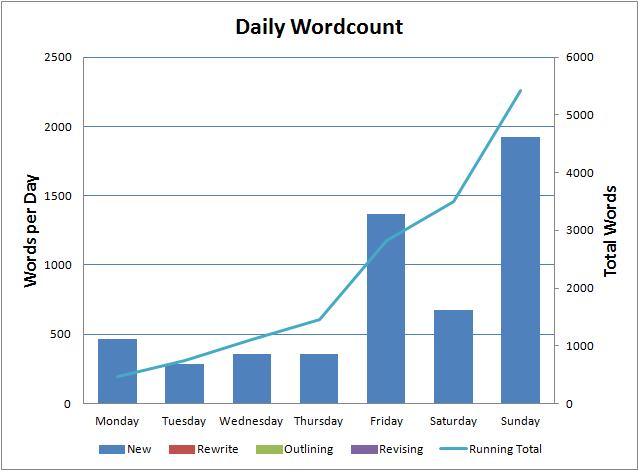 That's the most productive week I've had in about three months – yesterday's session helped a lot. My best week was an 8,871 word week back at the end of July. I'd like to try to beat that before the end of the year, maybe even break the 10,000 mark. Of course, that's a day's writing for some writers but at the moment I'd settle for a consistent weekly word count over 5,000. Maybe that's something to aim for next year.
I've reached Chapter 25 of Glitch although I think one of them needs to be split into two. I'll break the 60,000 word mark today. There's a couple of chapters and maybe an epilogue to go so I'll be very close to the 65,000 word mark by the time I've finished.
I was hoping to get this first draft finished off before Christmas Day but that doesn't look likely. That last 5,000 words will probably take 8-10 hours and I just can't see myself getting that much writing done over the next couple of days. Especially as I want to finish off a play through of Dead Rising 3 by then and we're going to a play tomorrow.
[
Metrics Monday – 23rd December 2013
by Philip Harris first appeared on
Solitary Mindset
on 23rd December 2013]