Another busy week, another feeble word count saved only by an unexpected burst of productivity on Saturday.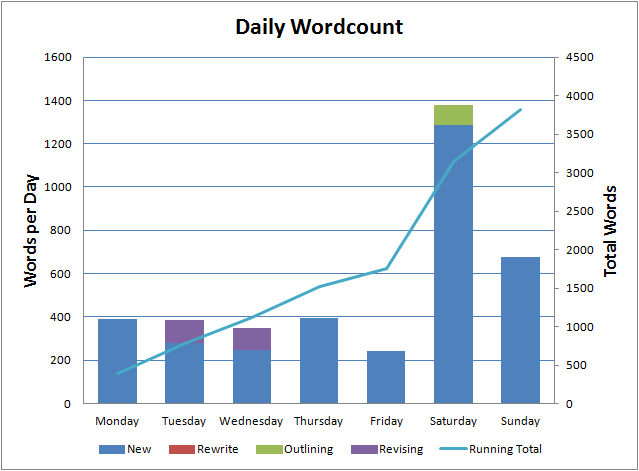 I did manage 3,813 words and broke the 30,000 word mark on Glitch which is encouraging. I got a bit bogged down for a couple of chapters but I've upped the peril again and things are moving along nicely. The chapters are getting shorter, the most recent one clocks in at 1,877 so I may be done sooner than I think.
I also put the finishing touches on In the Shadow of Memories on Wednesday and submitted that so we'll see how that one fares.
This week should be a bit better word count wise, particularly as I have 14-15 hours of flying to do at the weekend – plenty of time to get some more work done on Glitch. And of course I'll have the return flight as well so with a little bit of luck, I should be just about finished with the first draft by the end of November. Then it's on to revising The Ghost Smuggler.
I had considered doing NaNoWriMo this year but the timing wasn't quite right. It's too bad, Glitch would have been the perfect book to work on. I do have another idea that could work though, maybe I'll save it for next November.
[
Metrics Monday – 4th November 2013
by Philip Harris first appeared on
Solitary Mindset
on 4th November 2013]