At 9:14pm today, I wrapped up the first draft of The Ghost Smuggler.
I've edited out some of the notes I've been keeping and cleaned up a few stray blocks of text and this draft comes in at 73,936 words. There are still some notes in there so the actual word count is a bit less.  Of those words, 17,514 were reclaimed which leaves 56,422 new words.
I started this rewrite on 4th February 2013 and it took me 96 hours and 41 minutes, spread out over 198 writing sessions (covering 188 days of writing). That's an average of  584 words an hour. I did actually write more than that (64,169 words in fact) but the rest (7,747 words) got deleted before the draft was finished. If I include the deleted words as well, I averaged 664 words an hour.
Of course, there's still a lot of work to be done before this is even close to being a real book so the final length is yet to be determined.
But before any of that work starts, the book has to sit and fester for a few weeks – to make sure those really flaws stand out when I start revising.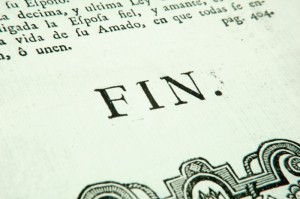 ["My only friend, the end" by Philip Harris first appeared on Solitary Mindset on 14th August 2013]