We finally watched Cloud Atlas over the weekend – wow, that's a phenomenal film.
We had planned to see it at the cinema but it vanished before we got a chance. It's been on our to watch list ever since. Now we've seen it, I regret not seeing it on the "big screen" even more. I'm surprised it didn't do better when it was released but the synopsis I read made it sound like a pretty daunting film and at 2 hours 51 minutes it's got all the makings of a snooze-fest.
That couldn't be further from the truth. It held my attention better than some films half the length. In fact, directors, Tom Tykwer and Andy and Lana Wachowski, have created such an incredible rich and rewarding film that it will stand up to multiple viewings.
If you haven't seen it yet, don't let the length and the complexity put you off, it's a great movie. According to Pinterest, we've watched 73 movies so far this year and Cloud Atlas is an immediate contender for favourite film of the year.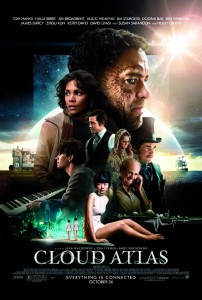 [
Cloud Atlas
by Philip Harris first appeared on
Solitary Mindset
on 13th august 2013]