My wife and I watch quite a lot of movies, usually 3-4 a week. Our PVR sits at 80% full thanks to our subscription to Movie Central and we live near a couple of big cinemas and see quite a lot of stuff on the "big screen" as well.
Last night's film was Retreat starring Thandie Newton, Cillian Murphy and Jamie Bell. Ann suggested we record it (I'm not sure why) and I wasn't really expecting much. As it turned out, it was actually pretty good.
Newton and Murphy play a couple staying in a cottage on a remote island. They find an injured soldier (played by Jamie Bell) who informs them that an airborne virus is sweeping across the country, killing everyone but it's clear he can't be trusted. It  has a tiny cast, there's only one other character, a brief appearance of Jimmy Yuill as the cottage owner who drops them off on the island. I wouldn't be surprised to find it started life as a play.
There's a bit of a Dead Calm feel to Retreat and although the couple's back story feels a bit superfluous overall I enjoyed it.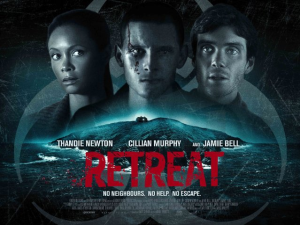 [The article
Retreat (2011)
by Philip Harris originally appeared on
Solitary Mindset
on April 7th, 2013]