I was very sad to hear that Anne McCaffrey died on Monday.
As you would expect, there are lots of great tributes across the web.
Random House
Locus Obituary
Geek Out!
Girl Meets Lightsaber
io9
Author Chris F. Holm
For my part, I grew up reading the Dragon stories. Inspired perhaps by my brother's suggestion that I was a bit too young to read them, I devoured them all as quickly as I could. Even now, many years later, they still hold a special place in my memories and I'll never forget the world of Pern.
My wife was equally entranced by Anne's books and I think she's read them all, including the spin offs, the non Dragon stories and those written with her son Todd and other collaborators.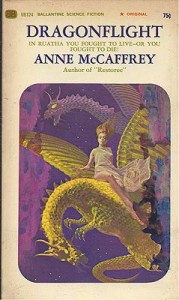 I remember reading some writing advice from Anne McCaffrey that really stuck with me. I'm not able to find the full quote anymore because the original website is no longer available but I'll paraphrase here.
She suggested that if you were writing a scene with a chest of drawers in it, you should know what was inside it. Not that you had to tell the reader, just that you, as the creator of that world, needed to know in order to make that world seem real. If you didn't know what was in the drawer, the reader would be able to tell and the illusion you were trying to create would be broken.
For some reason that idea struck a chord with me. It's an approach I've tried to follow in my writing and pretty much every story I write has a much richer backstory than is present in the story itself. Of course, sometimes that gets me into trouble and I end up writing something too cryptic for anyone without access to that backstory to understand but I'm working on that.
As recently as last week I considered going back and re-reading the Dragon series.
Sadly, I have even more reason to now.